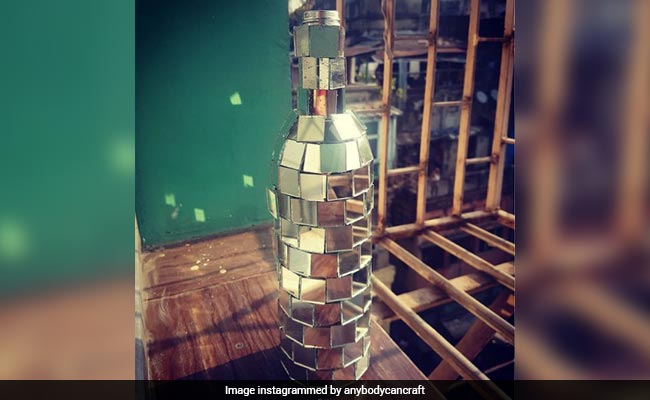 Looking for ways to add some quirk to your home space? Here's some good news. You really don't need to head to a home decor store and spend big bucks. You can in fact create quirky showpieces right at home using one of the items that we almost always have stocked up to send for recycling – glass bottles. From alcohol bottles to juice jars and jam containers, you can transform them into stunning showpieces with just a little effort. Here's are some ideas for DIY projects:
1. Candle stand
This is probably the easiest way to reuse glass bottles. Just take some acrylic colour and paint the bottles in whatever colour that catches your fancy. Then add a dash of glitters and your new candle stand is ready. If you want to keep it simple, then just ditch the colours and place some dry plants or artificial flowers inside the bottle and it's done.
2. Flowering pots
Always wanted to start your little garden but never got started with it? Now's the time. You can use old glass bottles as pots to grow your plants. Money plants are the easiest to handle, after wish you can explore and grow various other kinds of plants.
3. Picture frames
While wooden frames are an all-time favourite, you can give that a break and make quirky picture frames using old glass bottles. Thoroughly clean a glass bottle and once it's dry, fill it up with pebbles and dry flowers. Then carefully place a picture in it and use fairy lights to light it up.
4. Showpieces
Get hold of different kinds of threads and ropes to spruce up old glass bottles into stunning showpieces. You will need a little patience to neatly wrap the threads around the bottle, but trust us that the end result will definitely make it worth it.
5. Festive gifts
Festive gifting is never easy because we almost always struggle to find interesting ideas to make it a special affair. Add a personal touch next time by gifting your friends and family cool hand-painted bottles as showpieces.
6. Dreamy lamps
This is another easy way to add instant glam to your home corner as well as make use of old bottles. All you need is a bunch of fairy lights, which you need to place inside the bottle and simply light it up.